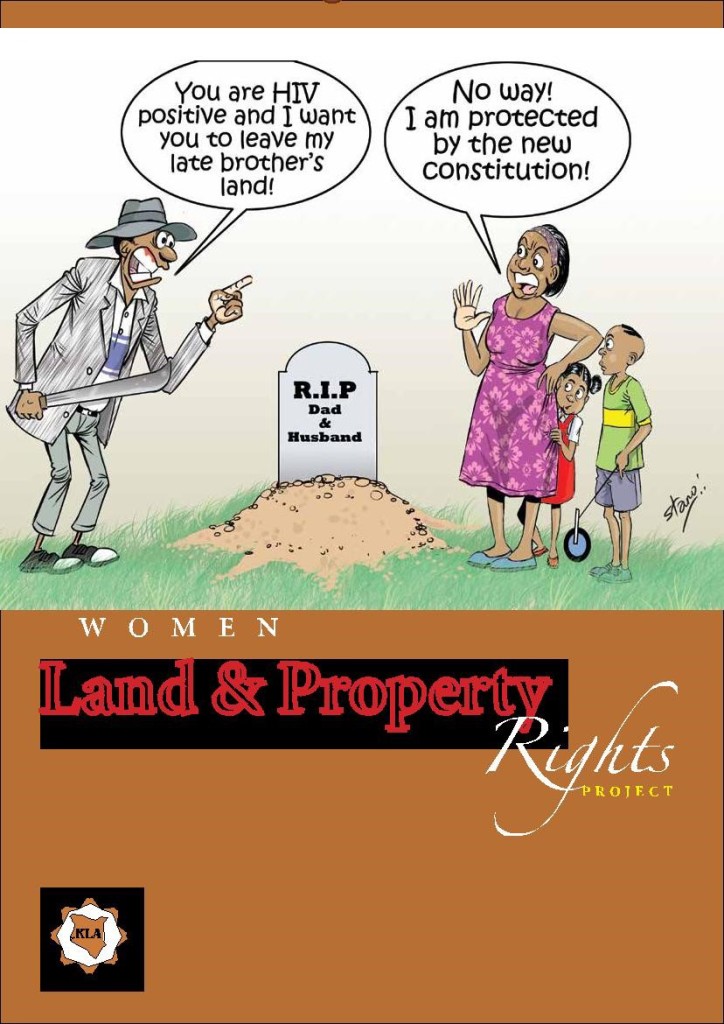 The Women Land Rights Programme (WLRP) focuses on advocating for effective implementation of Constitutional provisions for secure women land rights. Despite the Constitutional protection of property rights to land, many Kenyans still do not have secure land rights. Cases of lack of title deed, irregular land allocations, landlessness and displacement from people's land are rampant. In addition, women do not have equitable access and secure land rights as compared to men. Secure and equitable access to land rights is essential for achieving SDGs and thus eradicating poverty and achieving food security. Over the years, KLA has played a fundamental role in bringing secure and equitable land rights at the center of land reform discourses. Building on its record, KLA strategic interventions will focus on several priority interventions.
First is to continue influencing and catalyzing legislative and policy reforms in the land sector. While the new Land Acts were enacted since 2011, there is consensus that legal, policy and institutional reforms that are aligned to the Constitutional provisions are still necessary so as to secure land rights for all especially the poor and marginalized. Government has prioritized several policies and legislations including review of the National Land Policy and finalization of National Spatial Infrastructure Policy, completion of land adjudication and titling programme, registration of community land and enactment of land related laws (Evictions and Resettlement Bill, Historical Land Injustice law, Minimum and Maximum Landholding Acreage Community Land Bills, subsidiary laws and regulations under the Land Laws).KLA will undertake policy advocacy, dialogues and analysis to influence these reform processes. .
In preparation for the celebration of the International Women's Day 2018, Kenya Land Alliance disaggregated and analyzed 1,000,099 out of the about 3,200,000 title deeds issued by the Government of Kenya from 2013 to 2017. In this audit, KLA found out that only 103,043 titles representing 10.3 percent were issued to women while 865,095 titles representing 86.5 percent went to men. In terms of hectares, out of 10,129,704 ha of land titled; women got 163,253 ha representing a paltry 1.62 percent, while men got 9,903,304 ha representing 97.76 percent
The five years duration of land title issuance is a pointer to the reality that gender disparities continue to go unnoticed in Kenya. This is despite being a serious constraint to progress towards achieving in specific the Goal Number 5 of the Sustainable Development Goals (SDGs) on Gender Equality and Article 40 of the Kenyan Constitution. Now, more than ever, women in Kenya are increasingly demanding a strong call-to action to press for progress in gender parity in land redistribution. It is our hope that this disaggregated data of land title issuance during the period 2013 to 2017 will not be read simply as a "women's issue", but an important societal issue. It is not a question of a few women being added to the land register rather it is a recognition of the significant part women play in agricultural production as the mainstay of food-crop production.
WHAT WE DO
To realize women land and property Rights, WLPRs KLA with the financial help of well-wishers has been involved in the following activities:
Public Education and Awareness Raising on Women Land Rights
Dialogue forums with Council of Elders
Development and Dissemination of Information, Education and Communication, IEC materials
Research to inform Advocacy Campaigns
Stakeholders Bi-annual meeting
Media Campaigns through both Print and Electronic
PUBLIC EDUCATION AND AWARENESS RAISING ON WOMEN LAND RIGHTS
Kenya Land Alliance conducts civic education forums both at the National and Regional Level on women land rights. We envisage a society where both men and women understand and appreciate the importance of women land rights and stand in defence of the same. Through the Land Rights Centres spread in all the 8 regions of Kenya, we endeavour to continuously educate the public on legislations and policies governing women land rights.
The realisation that ongoing legislation and institutional reforms must engage with customs, traditions and practices that govern land and property ownership in order to deconstruct and re-conceptualize existing attitudes, beliefs and perceptions are what led to the idea of dialogue forums with councils of elders. To date, KLA has held dialogue forums with the Kalenjin, Luo, Njuri Ncheke, Kaya, Somali elders from.