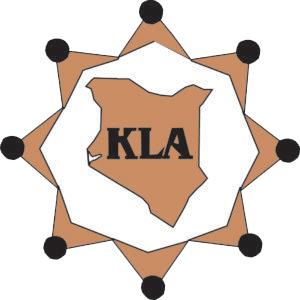 The Kenya Land Alliance (KLA) formally a Trust and registered as a NGO in July 2013 was established to create an institutional mechanism to advocate for enabling land laws and policies in order to ensure secure and equitable access to land and natural resources in Kenya. Since inception, Kenya Land Alliance has experienced remarkable growth. As a result of its activities, KLA has curved a niche in lobbying and advocacy for reforms of land laws and policies in Kenya. The participation and contributions of KLA to the Presidential Commission of Inquiry into the Land Law Systems in Kenya (Njonjo Commission), the Constitution of Kenya Review Commission, the Ndungu Commission, and the Committee of Experts were highly acknowledged. In all the key land reform processes, KLA lobbied effectively and widely consulted to ensure that provisions were made that had direct relevance on the lives of millions of women, pastoralists, hunter -gatherers, squatters and Internally Displaced Persons, informal sector residents and traders (hawkers), fisher folks, people living with HIV/AIDS and those living with disabilities. Land reform is one of the critical foundations upon which the economic, social and political pillars of Kenya Vision 2030 are anchored and as these initiatives and priorities are being implemented there is bound to be challenges that have and will affect optimum realization of KLA`s Mission and objectives: Land reform is a largely political process in Kenya and lack of political goodwill to push forward the process will and has led to its slow implementation. Resource requirements for continuous effort of capacity building of citizen's constituency on land reforms are heavy as compared to what Development Partners on Land Sector are able to give. There are numerous vested interests in the land sector reform that have over the years blurred the national quest for equity and social justice in resource access and use. These interests have hindered and derailed progress towards the realization of the land sector reform programs. The capacity of Kenyan public to engage in the reform agenda has been wanting. Similarly enhancing the capacity of partners and other stakeholders require resources and goodwill in land reform process.

In addition to the above engagements, the most notable achievements of Kenya Land Alliance over the years include:
1.Facilitation of networking, information gathering and sharing among KLA members and other stakeholders through workshops, media, exchange visits and other means; generation of relevant and up to date information on land; and membership in other networks such as East Africa LandNet, International Land Coalition and hosts the ILC African node and LSNSA.
2.Sensitization of the communities and the public on land issues.
3.Contribution to the national debate on land reform and generation of national land policy options.
4.Contribution to constitution review process by ensuring the firm inclusion of principles and provisions on land, property, environment and natural resources in Constitution of Kenya.
5.Facilitation of civil society input into Agenda 4 reform processes including the Truth, Justice, and Reconciliation Process; Boundaries Review Commission and the National Integration and Cohesion Commission.
6.Won the Champion of democracy award from the Ford Foundation.
7.Supported the Endorois community in regaining their ancestral land through a court ruling and development of a Community Land Recognition Model.